Image

Eating breakfast cereal seems simple. You pour it in a bowl, add milk, grab a spoon and dig in. But when you think about what it took for that cereal to reach your table, breakfast can get complicated.
First, a farmer bought supplies to grow and harvest the grain, which was then shipped for milling. Paper pulp and plastic were needed to produce the box and inner wrapper. Those components went to a cereal-production plant. The finished cereal boxes shipped via multiple modes and vehicles to one or more warehouses before arriving at the store. The manufacturer had to maintain product quality and prevent losses from theft and accidents all along the way.
So it turns out, the most important ingredient in your cereal might just be the transportation network that got it to you.
Railcars are an essential part of this network. Freight rail is integrated in the production of breakfast cereal and most every other consumer or industrial product. If a railcar is delayed, there could be an impact on the price, the variety or even the availability of a product. Complete equipment and shipment visibility into the network can help.
Complete Equipment and Shipment Visibility Available with Shipping by Freight Rail
For industrial and consumer goods to move safely, efficiently and reliably, a shipper must have optimum visibility into the location and status of transportation equipment and shipment visibility across its entire network.
That's why accurate, up-to-date railcar tracking is critical. Railcar fleets can include thousands of freight cars, many of which are nearly identical. But each car belongs somewhere, whether in a customer's yard, at an interchange point or in a shop for scheduled maintenance or emergency repair.
The Association of American Railroads reports that in the last 15 years, North American railroad market share (by ton-miles) has topped 40 percent. Railroads carry more ton-miles today than any other mode, including truck. But as freight rail has become a more important link in many supply chains, expectations are higher for railcar owners.
The stakes are only getting higher for railcar owners and users because with new opportunities come new customers.
This environment drives the need for complete equipment and shipment visibility across the North American rail network and has given rise to new tracking and tracing technologies. Shippers, third-party logistics service providers (3PLs), and railcar owners and lessors who make effective use of these technologies have greater opportunities for success.
 
---

RailSight Data Support Fleet Planning, Railcar Tracking and Greater Rail Shipment Visibility
Consider Railinc's RailSight suite of applications and how it supports railcar tracking and tracing.
Class I railroads have built data gathering and management networks to provide information that supply chain managers need. These networks collect data from the 1.5 million railcars tagged for identification as they pass one of the thousands of scanners strategically placed across North America. RailSight users can access that data to support real-time decision-making and can review historical data for analysis and optimization.
With more accurate data and complete visibility, railcar owners can better plan their fleet deployments, track cars and meet their customers' expectations.
With more accurate data and complete network visibility, railcar owners can better plan their fleet deployments, track cars and meet their customers' expectations.

A railroad is always the best source of information about a railcar or shipment on its network and this flow of data often occurs between a railroad and its customers. When shipments move among railroads, RailSight processes interline data, providing a seamless integration of all data coming in from the approximately 570 railroads in North America.
Railinc's team, with input from railroads, car owners and lessors, shippers and 3PLs, designed RailSight to deliver comprehensive shipment and equipment management data via a flexible framework that supports its users' changing needs.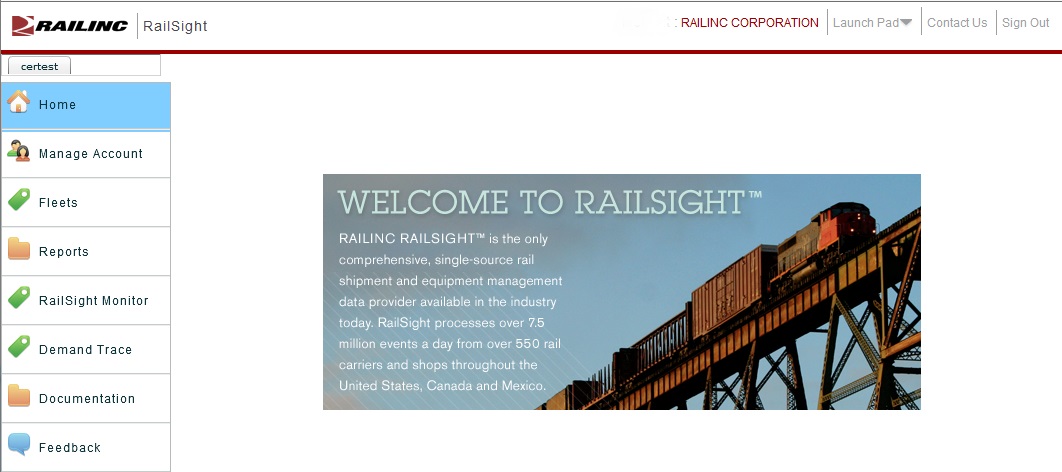 ---


Evolving Freight Rail Environment Demands Dynamic Technology Systems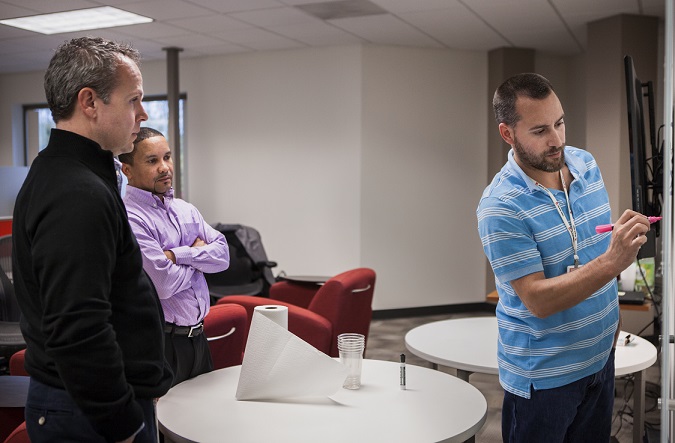 The freight rail environment is constantly evolving. The good news is that technology resources like RailSight and new approaches to supply chains can help shippers serve customers with high-quality data and solutions that support informed decision-making and efficient operations. Some examples include:
New technology solutions—Technology providers of all sizes and segments, including Oracle, MercuryGate and others are developing solutions for rail. These tools integrate applications and data and are accessible via the cloud.
Greater access to information—Data as a Solution (DaaS) or Software as a Solution (SaaS) services provide deeper visibility into the supply network and reduce or eliminate costs associated with systems integration. Even companies with small IT footprints can access powerful technology tools that can help optimize operations, and large organizations can leverage systems and data across their enterprise.
Sharpened management focus—Linear supply-chain thinking has evolved into supply-network thinking. These supply networks are composed of relationships among many parties at many levels. The supporting data, apps and infrastructure can shorten the shipment cycle, improve efficiency and reduce errors.
Improved data and visibility—Better data leads to benefits such as more predictable ETAs; reduced dwell time; faster equipment turns; and the potential to reduce costly equipment purchases.
Because supply networks constantly change, businesses should develop processes that continuously optimize their transportation alternatives. Railcar shippers have told us that their biggest operations challenge can be accessing vital information on their large and geographically dispersed fleets. Companies that leverage high quality, complete data can realize greater productivity.
A flexible, evolving technical infrastructure also enables improved utilization of people, processes and technologies across more complex organizations and supply networks.
 
---

4 Things You Can Do Now to Improve Network, Equipment and Shipment Visibility
Are you wondering where to start? Here are four things you can do today:
Revisit and validate your data sources to ensure you are receiving the most timely and complete data.

Optimize your supply network across modes, and include rail in your mix. If you don't consider rail, you might leave money on the table.

Incorporate cloud-based solutions that enable you to use the most up-to-date data and applications in support of big data and predictive analytics initiatives.

Take the long view, with a strategy for continuous improvement of your infrastructure, from data to applications. To remain competitive every company needs an evolving plan that leverages a range of tools, from SaaS solutions to ERP systems.
As freight rail has grown in volume, market share and importance, the industry has kept pace with cloud-based information management technology offerings and applications. And that breakfast cereal? It's the high-quality data and complete equipment and shipment visibility these solutions provide that help get it to your table.
—Chuck Hieronymi
| | |
| --- | --- |
| | As Railinc's director of business solutions, Chuck Hieronymi connects customers with RailSight tracking and tracing solutions to help them get the most out of their supply networks. Chuck has held leadership roles with financial, consulting and media companies, and he earned an MBA from the University of Virginia. |