Image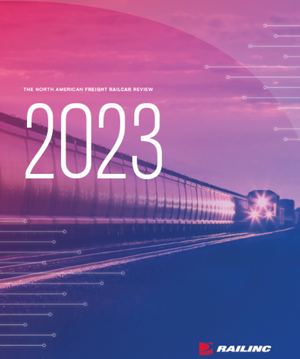 The North American Freight Railcar Review 2023 provides an industry overview of the North American railcar fleet from January 1, 2022, through December 31, 2022. The report includes an overview of the Umler® Equipment Index and an analysis of the revenue-earning portion of the fleet with a breakdown of sub-fleets by commodities carried. The report supplements Railinc's presentation at the Rail Equipment Finance Conference on March 6, 2023.
You can download FREE copies of the North American Railcar Review 2023 and Dr. David Humphrey's presentation from the Rail Equipment Finance Conference below.
Registration is required, and a new window will open.
Please direct inquiries about this report and presentation to Railinc Corporate Communications.
Past Reports
About the Umler® System
Railinc compiled all data in this report from Railinc's Umler® System, except where noted. The Umler equipment registry contains the physical characteristics, transportation management and pool assignments of nearly two million pieces of rail equipment in North America. It is the base file for other industry reference files and industry equipment accounting files and is updated more than 600,000 times each month.