Image

Freight railroads, equipment providers, repair shops and others must work together in various ways to effectively support customers and the North American economy. Each railroad and holding company is essential to the North American supply chain.
All United States railroads are regulated by the Surface Transportation Board (STB). The board oversees rail mergers, rates, service and more.
Who Are the North American Class I Freight Railroads?
The North American freight rail network is operated by seven Class I railroads, 22 regional railroads and over 580 short line railroads. A Class I railroad is considered one of the largest in the network and has an operating revenue of $490 million or more, which is adjusted for inflation each year. Up until the late 1980s, there were dozens of Class Is in operation. The current Class I freight railroads are: Union Pacific (UP); BNSF Railway; Canadian National (CN) Railway; Kansas City Southern (KCS) Railway; Norfolk Southern (NS) Railway; and Canadian Pacific (CP) Railway. Amtrak, a passenger railroad company, is also considered a Class I.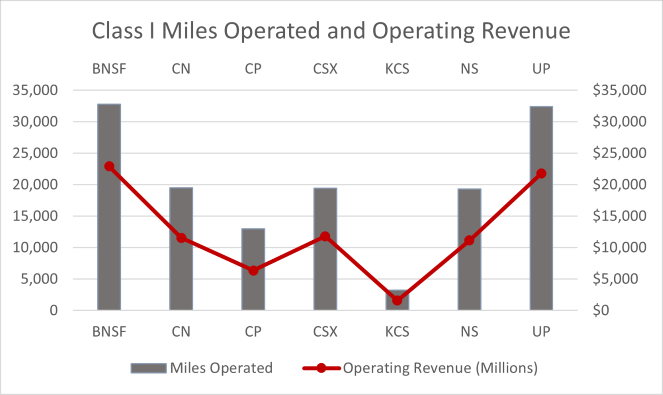 Class Is account for roughly 67 percent of freight rail mileage and 94 percent of revenue. The railroads are often used for long-haul shipments with as few stops as possible. They own all their track—as opposed to European countries, where a country's government owns the track.
As it stands today, UP and BNSF serve the majority of the United States with a combined range of 65,258 miles. However, they operate almost entirely west of the Mississippi River. The east coast is covered by NS and CSX; KCS runs through the midsouth into Mexico; and CN and CP operate mostly in Canada, with some track running along the Mississippi River and the midwestern U.S., respectively.
CP is in the process of merging with KCS to expand their freight rail footprint. Once the merger is approved, the railroads will have track running from southern Mexico to northwestern Canada and will operate as Canadian Pacific-Kansas City (CPKC). The STB decision on the merger came in March 2023, nearly two years after its first proposal. The official merge date is set for April 14, 2023.
What Does Railinc Do for The Class Is?
Railinc provides innovative technology solutions to the entire North American freight rail fleet. We are focused on creating value for the rail system by supporting the ever-changing needs of our customers. In 2021, we introduced our TransmetriQ brand which was created to simplify asset and transportation management as well as provide additional visibility insights for railroad customers.
Six out of the seven Class Is operate in Chicago, one of the busiest rail gateways in the United States. Railinc's Clear Path™ System provides visibility in this high-traffic area by helping railroads plan, monitor and execute the movement of trains through the terminal. With around 25 percent of traffic originating or terminating in Chicago, Clear Path is a critical application railroads use to exchange accurate information with each other.
Railinc also releases detailed reports on the railcar and locomotive fleets every year, created with input from Senior Data Scientist David Humphrey, Ph.D.
Umler® and Clear Path™ are trademarks of Railinc Corp.