Image

Stop by the Railinc office at lunchtime on any Monday or Thursday and you'll likely encounter employees running figure eights around the parking lot, doing burpees by their yoga mats or carrying a 20-pound medicine ball up and down stairs, all under the watchful eye of a personal trainer from O2 Fitness. This free weekly class is part of Railinc's Wellness Program and is open to all employees. It's been a hit, too, with as many as two dozen employees turning out for the two, hour-long sessions.
"Yoga and strength classes give us the confidence that we can continue moving forward with our personal health journeys with passion and enthusiasm." —Hermant Koneru, senior software developer
Health, Wellness a Cornerstone of Railinc Culture
In 2012, Railinc launched the voluntary wellness program, which gives employees resources to get active, make healthy lifestyle choices and save money. This program includes free, on-site nutrition counseling, free memberships to the O2 Fitness health club, lunch-and-learn sessions, a free Fitbit, virtual stretch breaks, sports and recreation, and fun, company-wide fitness challenges. Even during the pandemic, our wellness programs continued, and employees stayed engaged with each other virtually through a variety of wellness opportunities.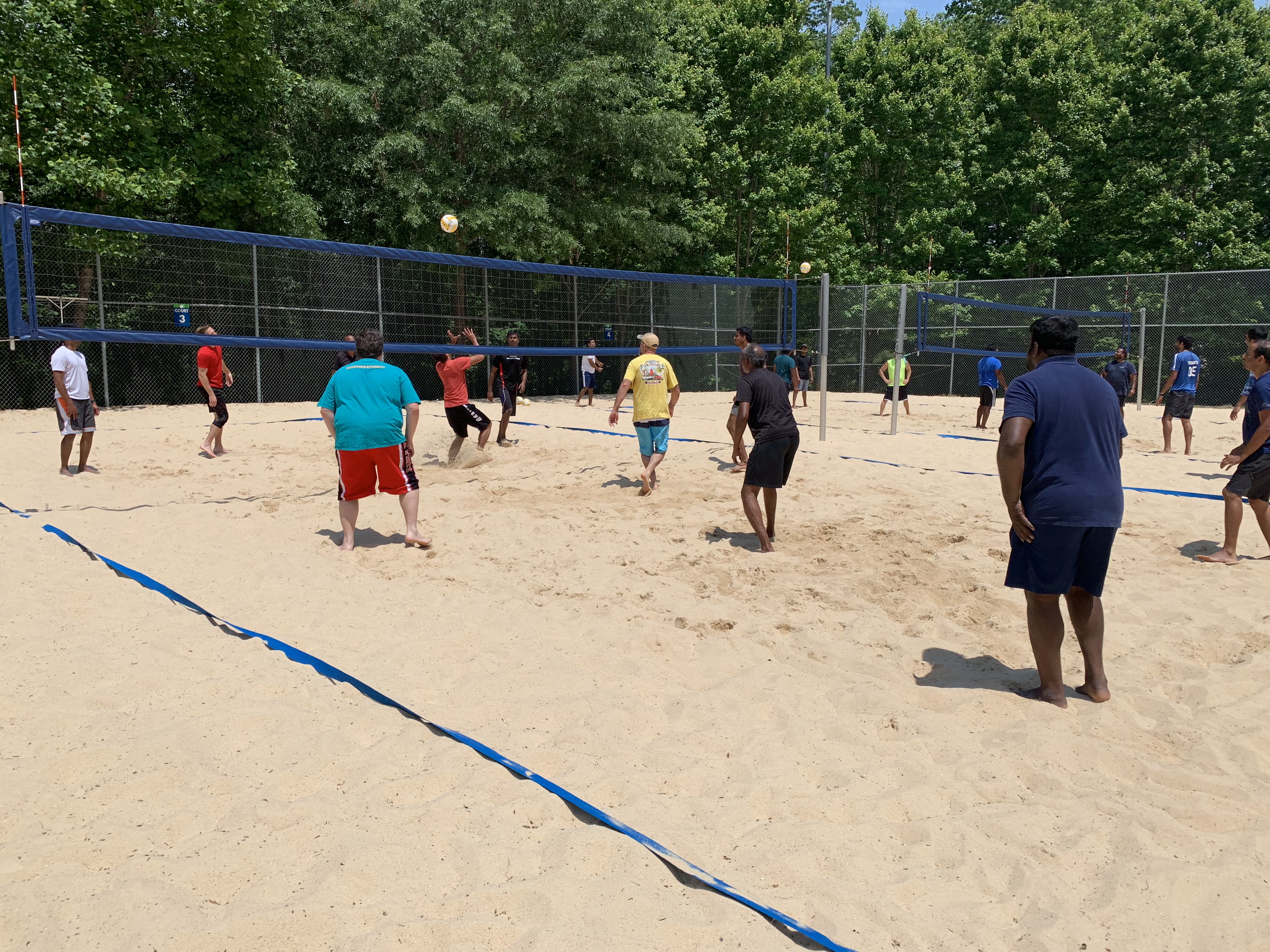 Railinc employees team up to play volleyball at the local park during lunch
Employees also have access to an on-site gym, bootcamp classes and yoga. Employees can easily hop on the nearby greenways or stop by the local city park less than a mile away. Railinc also sponsors an annual company 5K race and walk, a fall event with games and prizes, and provides free fruit in the office's main kitchen.
Thanks to the program and employee participation, Railinc was named a Healthiest Employer in the Triangle by the Triangle Business Journal in 2013-2017.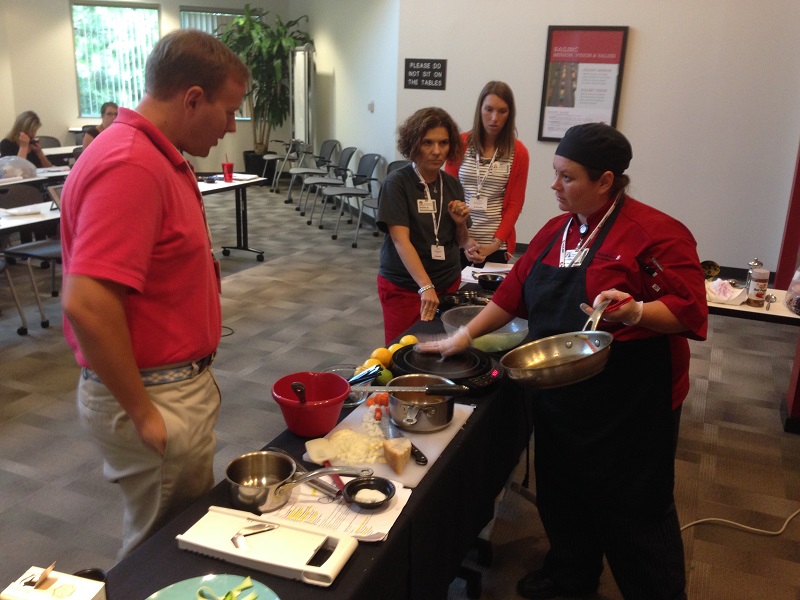 A Railinc employee gets pointers on healthy eating at an onsite cooking demonstration
For some employees, those habits include being more informed and deliberate about their food choices. To help them, Railinc works with a nutritionist partner who provides private, onsite, one-on-one nutrition counseling. It's a popular offering—open slots fill as soon as they're posted to the company intranet and employees who work with the nutritionist get weekly emails with healthy recipes and tips for making good food choices.
Tracy Brewer, a senior product support specialist, has worked with the nutritionist since Railinc introduced the benefit in 2013. The regular meetings have given Brewer the support she needs to make positive lifestyle changes, including mapping out a food plan, staying active, and keeping healthy snacks at her desk and at home.
"It's very convenient that she can come to us," Brewer said. "She keeps me in line, and I just enjoy talking with her and feeling like I have someone who understands me."
Healthy Employees Help Keep Costs Low
Healthy employees also have a positive impact on a company's bottom line. According to the Centers for Disease Control and Prevention, healthier employees are less likely to need to use sick leave. For example, obese men use 56 percent more sick days per year than normal-weight men.
Healthier employees (and a wellness program that supports healthy lifestyles) help Railinc better manage its annual health insurance costs. Because of the Wellness Program and healthy lifestyle choices employees have made, Railinc has been able to mitigate annual increases in health insurance premiums. Coming into this year, Railinc saved more than $180,000 in renewals, keeping both employee and company costs low. Ninety-nine percent of Railinc employees participate in the company's wellness program.
"It's real money in our employees' pockets," said Allen West, president and CEO. "We have a generous health insurance program at Railinc, and we do a lot to maintain that. But our employees know they can have an impact on what we pay for health insurance, and they work hard to help keep those costs low."
How low are the costs? Employees pay less than $150 per month to insure their families under Railinc's PPO plan. Overall, Railinc employees spend on average $2,400 less each year on their medical deductible than employees at other companies and $8,200 less per year on health insurance. Railinc also provides employees and their families with free dental and vision coverage, as well as free confidential counseling.
Each year, employees must complete a physical exam with their personal doctor or participate in an onsite biometric screening to easily obtain a snapshot of their current health information. Employees must either meet a BMI or waist circumference measurement, or participate in one of our reasonable alternative standards programs, to not acquire a wellness surcharge.
Railinc offers a variety of wellness programs to help employees get on track with living a healthy lifestyle. These programs include fitness classes, healthy lifestyle classes, a weight management program, or meeting one-on-one with a dietician.
Employees Drive Wellness Initiatives
While decisions around the health insurance program are made at the executive level, employees drive nearly all other Railinc wellness initiatives.
Railinc's wellness team and coordinator meet monthly to plan wellness activities, from lunch-and-learns, fitness competitions, 5Ks, fall events and sports and recreation programs.
Wellness team members also manage Railinc partnerships with companies such as O2 Fitness, Instacart, NC Food Bank and WakeMed to provide a variety of wellness programs either onsite or virtually throughout the year.
"It's a lot of fun working with our colleagues to develop these initiatives and activities," said Latetia Coston, a wellness team member. "From the team's perspective, it's exciting to see our fellow employees get involved, get enthusiastic about health and wellness, and see positive results."
—Railinc Corporate Communications