Not all customer support jobs are alike. Some can be more beneficial to your career goals than others. The opportunities you have to keep your career moving in a customer support role depend on the industry and the company.
Here are 20 questions—about career growth, training, the organization, the work environment, benefits and recognition, and the skills and traits of successful employees—that will help you learn more about working as a customer success specialist at Railinc.
Like what you read? We're always looking for the next great Customer Success Center (CSC) team member! Click here to apply.
CAREER GROWTH
1. What advancement opportunities are available?
A stint in Railinc's Customer Success Center (CSC) can help you keep your career moving and build the foundation for growth within the company. About 22 percent of our work force started their Railinc careers as a member of the CSC team. Today, former customer success specialists hold positions including business analyst, manager of product support, senior product support specialist, product development manager and manager of our Railroad Clearinghouse. Meet some of them here.
2. How does Railinc support career growth and advancement?
Railinc supports individual employees' professional and personal development opportunities and provides a variety of career paths. Customer success specialists also work closely with various product groups as part of their day-to-day responsibilities and can participate in job shadowing across the organization. Their next job at Railinc is often as a product support specialist in one of the product groups they've worked with or shadowed. Railinc also provides training to help customer success specialists learn about technology, our products and the freight rail industry.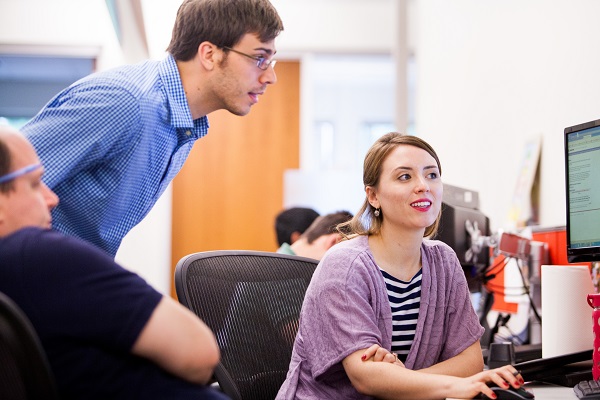 TRAINING AND EDUCATION
3. What training does a customer success specialist receive?
All customer success specialists go through a 90-day onboarding program when they start. They work closely with experienced CSC specialists, who serve as mentors. The training focuses on the freight rail industry and Railinc processes, technologies, products and services. New team members start on tasks such as unlocking customer accounts, generating the morning report email that goes to the entire company and responding to customer emails. About two months into their Railinc tenure, customer success specialists begin to take customer calls like their more experienced peers.
4. Do customer success specialists focus on a single product or product group or do they work across all product groups?
Customer success specialists receive training on all our products and work across all product lines. Railinc has six primary product support groups that focus on specific products, and customer success specialists are assigned to meet with the groups weekly or biweekly. If a customer success specialist has an interest in a specific product line, they can focus on that product line through additional training and shadowing of the product group. However, they are required to provide customer support across all product groups.
5. What opportunities are available to learn about other areas of Railinc?
Customer success specialists are encouraged to shadow product groups and other departments in the company. Employees from other departments meet regularly with the CSC team to conduct group training. Customer success specialists also can participate in other training opportunities that are available company-wide. The goal for each CSC team member is to participate in 40 hours of training per year.
6. How does Railinc help CSC team members provide superior support?
New CSC hires go through extensive training that covers all Railinc products and services, as well as internal processes that affect customer support. We also have open lines of communication across the company. Customer success specialists are empowered to reach out to employees at all levels of the company to get answers to customer questions. They can also help to make Railinc products and services better by bringing their ideas for improvement to their manager, the director of the customer experience group or even to the product development group itself.
THE ORGANIZATION
7. Who are the customers and what are examples of typical requests?
Railinc customers include railroads of all sizes, from the largest freight railroads in North America to short line and regional railroads; owners of railcars and other rail equipment; shippers; fleet managers; and third-party logistics providers. Railinc's CSC team works with customers on everything from account unlocks and permission requests to user training and application troubleshooting.
8. What is the customer perception of Railinc's CSC team?
Providing excellent first-level support is critical to overall customer satisfaction, and the evidence suggests our CSC team does a great job. Railinc's Net Promoter Score is on the rise and is in the range of some of the best known brands in the world. This score includes all of our support groups, so we can't show a direct correlation between the performance of CSC and the improvement in our NPS. However, the CSC team handles the majority of requests the company receives, and most of those surveyed for NPS purposes are Railinc customers who interact with CSC on a regular basis. 
9. What is the five-year outlook for Railinc?
Railinc serves the freight rail industry, which has experienced strong growth in recent years as shippers and others look for ways to move freight more efficiently across North America. We expect this growth to continue and to enable us to use our trusted position in the industry and our data and technology expertise to advance the company.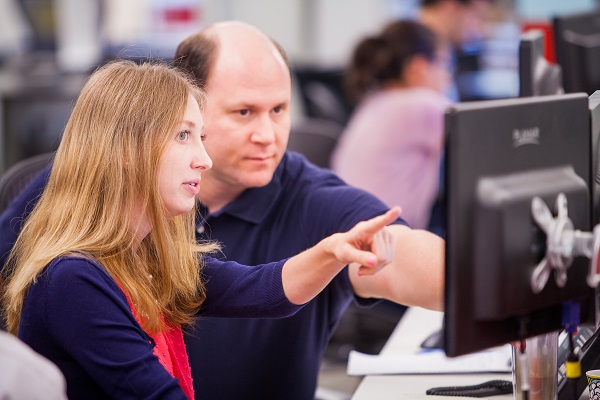 WORK ENVIRONMENT
10. What work, in addition to responding to customer requests, is a customer success specialist responsible for?
Customer success specialists are data stewards for Railinc, working with groups across the company to promote and help to maintain the quality of the company's data. They also facilitate important activities such as pre-implementation and root cause analysis meetings. They also play central roles in our critical case processes and disaster recovery training activities.
11. How does the CSC team support collaboration among its team members?
Customer success specialists sit together in bench-style seating, which makes it easy to discuss customer requests. They are encouraged to work together to answer customer questions and to use each other as resources when researching answers to customer inquiries. New customer success specialists go through a 90-day onboarding process that helps to build their confidence and communication skills and helps them get comfortable calling on their peers for assistance on cases.
12. How large is the CSC team and what is the typical volume of customer requests?
Railinc's CSC team includes eight full-time customer success specialists, one customer success specialist intern and one manager of customer success. The team is part of our customer experience group, which is led by the director of customer experience. The CSC team handles about 40,000 customer inquiries per year.
13. How are CSC employees empowered to improve customer support and to contribute to the advancement of Railinc?
Members of Railinc's CSC team are often the first to find out about a problem with an application or to identify updates to a product that can improve the customer experience. Customer success specialists are empowered to recommend changes to the products groups they work with, helping to improve the user experience and streamline their team's operations. For example, CSC employees recommended changes that enabled customers to unlock their Railinc accounts themselves and reduced the number of account unlock requests the team received by 20 percent.
14. What on-call requirements are there for customer success specialists?
To provide customers with 24/7 support, Railinc customer success specialists are on call for one week (Friday to Friday) every eight weeks. Customer success specialists who are on call must be able to get to their Internet-connected computer within 15 minutes of receiving a phone call. They are on call to handle emergency requests such as unexpected product outages that occur outside of business hours. The CSC team processes non-emergency requests that come in after business hours the following morning.
15. What is the typical work schedule for a CSC team member?
Because Railinc must be available to respond to customer requests, CSC team members work a set schedule. CSC team members work one of three shifts—7 a.m. to 4 p.m.; 8 a.m. to 5 p.m.; or 9 a.m. to 6 p.m. The team member on call works 10 a.m. to 7 p.m. One of the hallmarks of Railinc's culture is its flexible work schedule, which enables employees to get their work done without sacrificing their personal lives. Some groups within the company are able to offer more flexibility than others. The CSC team does work a set schedule, but they have the technology to work from home if a personal issue arises. Have a doctor's appointment or other personal obligation that will take you out of the office for the afternoon? The CSC team member just works with their manager to ensure the team has the necessary coverage while they're out.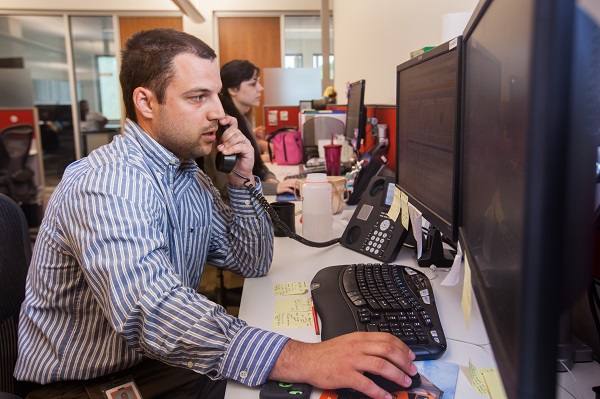 BENEFITS AND RECOGNITION
16. What recognition can customer success specialists receive for good work?
Customer success specialists are eligible for Railinc's Rewards and Recognition Program. This program includes Rail Cash Awards, which are spot awards given by fellow employees to recognize good work. Award winners are recognized at all-employee meetings.
17. How does the organization evaluate a customer success specialist's performance?
Each customer success specialist participates in regular peer-led reviews of individual customer cases to evaluate their performance. The customer experience group also sends surveys after a case is closed to assess the customer's experience with Railinc. In 2017, customers indicated that they had a positive experience 95 percent of the time. And like all full-time employees, customer success specialists participate in midyear and end-of-year performance reviews with their manager.
18. What benefits are available to CSC team members?
Customer success specialists receive the same benefits as other full-time Railinc employees. This includes a 401(k) and matching retirement program, gym membership, three weeks of paid vacation, 12 paid holidays and comprehensive health care plans that are among the best you'll find at any company.
SKILLS AND TRAITS
19. What are the traits of a successful CSC team member?
Successful CSC team members at Railinc have a customer-centric mindset and strong deductive reasoning, time management and prioritization skills. They are able to multitask, learn quickly, give and receive constructive feedback, and work well in a collaborative environment. They are problem solvers and critical thinkers who are patient, organized, proactive, confident, curious and enthusiastic.
20. What skills does a customer success specialist at Railinc need?
New customer success specialists should have basic computer skills and be eager to learn. Railinc will provide extensive training on the technologies we use on a daily basis. It is helpful but not required to have an understanding of the SQL programming language and to have experience in a customer service job or a call center.
Railinc Keeps Your Career Moving
We're always looking for the next great customer success specialist! Click here to apply.